Operation system, Pascal
Delphi & Pascal (česká wiki)
Pages:
[1-10]
[11-20]
[21-30]
[actual]
[41-45]
---
Order:31
Program:
Rememobr.pas
File exe:
Rememobr.exe
File ubuntu:
Rememobr
The program first forgets the original screen at the point of a start. This is followed by writing out the text without a meaning. In the end it recreates the screen and returns it to the former state.
---
Order:32
Program:
Reset.pas
File exe:
Reset.exe
Impossible to be used in Windows, it serves to perform the "soft reset of the PC" in DOS. You may like the length of the source code. Out of 9 lines, 4 are unnecessary.
---
Order:33
Program:
Rolovan.pas
File exe:
Rolovan.exe
File ubuntu:
Rolovan
It can roll any text in the text window up or down. Controlled by arrows.
---
Order:34
Program:
Secure.pas
File exe:
Secure.exe
It just launches ARJ in a chosen file and packs it all under a previously defined password. It is able to restore, of course. The standard of the program user's interface lives up to the present requirements. Why did I use ARJ instead of ZIP? At the time of its writing, there were already the programs that could easily crack the password to get to the ZIP file. Up to this day there has been nothing above ARJ (probably because it is not used anymore).
---
Order:35
Program:
Serial_port.pas
File exe:
Serial_port.exe
Program demostrate communication via parallel port.
Before execute this program please set parameters of serial port with DOS command MODE:
MODE COMm[:] [BAUD=b] [PARITY=p] [DATA=d] [STOP=s] [RETRY=r]
Example:
MODE COM1:9600,N,8,1,P
---
Order:36
Program:
Simf2.pas
File exe:
Simf2.exe
As if it pressed F2 key. Nothing extraordinary. However, the interesting point about it is that it does it in the way which involves storing the information in the keyboard buffer. It also includes the functions which display the buffer condition. By the way, it can still be used as the buffer actually fills BIOS and not the operating system. I used routines as an automatic Log on user, which carried out all the necessary operations for me. However it couldn't take more than 32 keystrokes as this corresponds to the size of the buffer.
---
Order:37
Author:
Pavel Paták
web:
www.webpark.cz/programar
Program:
Sirena.pas
File exe:
Sirena.exe
Měla by pištet, ale to vzhledem ke kvalite dněšních speakru...
---
Order:38
Program:
Smf.pas
File exe:
Smf.exe
File ubuntu:
Smf
Simply small font - changes the font of Epson printers.
---
Order:39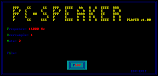 Author:
Aleš Kucik
web:
www.webpark.cz/prog-pascal
Program:
Speaker.pas
,
Mouse.pas
,
Textscr.pas
File exe:
Speaker.exe
need:
A.wav
,
B.wav
,
Mouse.tpu
,
Textscr.tpu
Tento program spouštějte z DOSu (WINxx restartujte do DOSu)! Přehraje všechny soubory, ale hudbu uslyšíte jen u 8bit zvukových souborů bez komprese a musí být nahrány mono. Předem upozorňuji, že na některých SPEAKERECH zvuk asi nepůjde přehrát vůbec. Pokud si nevíte rady s nastavením "OVERSAMPLE", "MUTE" a "FREQUENCE" přečtěte si prosím příslušnou kapitolu v GDM3 (sekce překlady) a nebo je zkoušejte.

mouse.tpu, mouse.pas - použitá jednotka na ovládání myši. textscr.tpu, textscr.pas - jednotky pro ovládání výstupu na obrazovku.

Aby jste měli na čem testovat, tady jsou nějaké soubory:

a.wav - frekvence 8000Hz, 8bit (když pustíte zvuk na této frekvenci, je slyšet nepříjemné pištění - proto nastavte frekvenci na 32000Hz a oversample na 8 a mute vyzkoušejte mute 2,3,4 uslyšíte, co bude asi nejlepší.

b.wav - tady je druhý soubor tentokrát na 16000Hz (typ: frekvenci nastav na 16000, mute na 2 a oversample na 1) Pokud si budete chtít vytvořit nějaký vlastní soubory: Spusťte "Záznam zvuku" (od Microsoftu) a nějaký WAV uložte s libovolnou frekvencí, musíte, ale nastavit formát:PCM, 8bit mono.
---
Order:40
Author:
Pishta
Program:
Stopky.pas
File exe:
Stopky.exe
need:
Egavga.bgi
Program plne pracuje s hodinami počítača. Umožňuje nasledovné operácie Pre uložené časy používa disk, konkrétne adresár c
---
Pages:
[1-10]
[11-20]
[21-30]
[actual]
[41-45]